Information
Current Region
Current Case
Previous Case
Next Case
---
---

Learn more about the cases that take place in the World Edition.

---

---

---

Learn more about the continents and regions of the world.

---

---

---

Learn more about the personnel of the World Police Agency.

---

---

---

Learn more about the ones who are government officials.

---

---

---

Learn more about the weapons used to slay the victims in the World Edition.

---

---

---

Learn more about the characters appearing throughout the World Edition.

---

---

---

Learn more about the achievable ranks in the World Edition.

---

---

---

Learn more about the police pets you can buy in the World Edition.

---

---
Cases
Continents and Regions
Europe
Europe mainly focuses on two different plotlines: one being an anarchist group who does not believe in democracy. Against them are the Russian military force, who completely are opposed against the anarchy. The other driving force in Europe is the increasing debt of Greece. The main objective of this district is to help Greece by finding the driving force behind their lack of income and ending the anarchy forever.
Sahara Region
The Sahara Region mainly focuses on one plot line: that there are a group of robbers who are stealing from each country. Many are in jail, and many people are still out there, stealing from places from Cairo to Dubai. The main objective of this district involves catching the remaining thieves and incarcerating the leader forever.
Eurasia
The storyline of Eurasia revolves around a doomsday device implanted in the galaxy. It is suspected that the doomsday device will cause the Earth to rupture, split in two, and be destroyed. A union of the space agencies across Eurasia referred to as the Cosmic Convocation is working to find the machine so the planet will not be destroyed. The WPA was recruited by the Cosmic Convocation so both could work to find the device before more of the universe could be subject to destruction.
South Asia
After a breathtaking journey back at Eurasia, Chief Daniel Bourne agreed to help Salma Mahmoud (Sahir's sister) for preparing the annual Summer Olympics. Other than that, the team also coped Atticus with the death of his mother and learns Sahir's atrocious past. However, the overlapping problems didn't stop there since a mysterious superhuman substance had spreaded across South Asia and the WPA must stop it at once.
East Asia
East Asia focuses on a story in a blog post called 'Black Reminiscence', which is rumored that the page of the blog cannot be closed until the final chapter of the story is released. For unknown reasons, murders similar to the story happened right after the release of each chapter. Black Reminiscence is also the presumed sequel to 'Grey Destiny', a book released twenty years ago that focuses on the murders of the former WPA's members, and the same book that annihilated the entire former WPA including Marco's father. The current WPA is tasked to unveil who was the revived serial killer that haunted the WPA after twenty years dormant.
Oceania
Africa
Antarctica
Antarctica focuses on following scientists through the continent and stopping their illegal experiments that are starting to melt the polar caps.
South America
North America
Police Department
| Personnel | Age | Birthplace | Position | Duties |
| --- | --- | --- | --- | --- |
| Daniel Bourne | 29 | London, England | Bureau Commissioner | Oversees the operations of each criminal investigation to ensure tasks are done in a proper way. In addition, commissioners issues orders (when necessary), issue leads when beneficial, and ensure all police agents are bringing justice by all means necessary. |
| Vivienne Matthieu | 21 | Bordeaux, France | Administrative Assistant | Reads and reviews files on behalf of the aforementioned commissioner. |
| Player | N/A | N/A | Homicide Detective | Performs homicide investigations as the investigator-in-chief of formal murder investigations; brings killers to justice by all means necessary. |
| Ricky Romano | 29 | Maranello, Italy | Elite Force Agent | Recruits only the finest officers from local law enforcement agencies on behalf of the Chief's office. Assigned to investigate murders and shady crimes with the player. |
| Max Storm | 22 | Miami, Florida, United States of America | Elite Force Junior Officer | A junior officer who served as a model prior to his tenure into the Bureau. Assigned to investigate murders and shady crimes with the player. |
| Aisha Hussain | 38 | Tel Aviv, Israel | Ballistics Analyst | Assists detectives arrest notorious criminals by gaining outside information and/or using violent measures, sometimes performs analysis on murder weapons. |
| Sahir Mahmoud | 43 | Ahmadabad, India | Chief Medical Examiner (Coroner) | Autopsies bodies of various murder victims, analyzes the murder weapon if necessary, issues new leads whenever possible, and handles anatomic forensics when needed. |
| Ava Müller | 24 | Munich, Germany | Head of Forensics | Handles and analyzes physical, biological, and clinical evidence to help homicide investigators incriminate the killer's identity, and sometimes discovers the murder weapon. |
| Mako Speltz | 28 | Fez, Morocco | Tech Analyst | Handles and analyzes digital and technical evidence to help homicide investigators incriminate the killer's identity. Also issues new leads whenever possible. |
| Atticus Giddleworthington | 69 | Chelsea, England | Profiler | Analyzes objects and/or clues that cannot be analyzed by digital, physical, clinical, anatomic or technical forensics, but instead, through psychological analysis. |
| Marco Lopez | 34 | Buenos Aires, Argentina | Historian | Analyzes ancient artifacts and/or documents and uses historical measures to bring or decipher important information from them. |
For more about the Bureau, see World Police Agency.
Government Officials
Murder Weapons
Characters
Ranks
Level 1 – Officer
Level 5 – Deputy
Level 10 – Detective
Level 20 – Corporal
Level 30 – Sergeant
Level 45 – Lieutenant
Level 60 – Captain
Level 75 – Major
Level 100 – Inspector
Level 125 – Lead Inspector
Level 150 – Commander
Level 175 – Deputy Chief
Level 200 – Commissioner
Level 250 – Sheriff
Level 300 – Ranger
Level 350 – Marshal
Level 400 – Senior Trooper
Level 500 – General
Level 600 – Secret Agent

Police Pets
Europe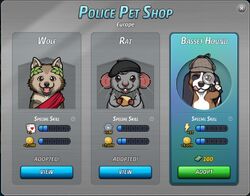 The pet shop in Europe requires 2 gold medals in the World Edition. The following pets are available in this shop:
Companion Animal
Cost
Output
Wolf
100,000 Coins
1 Lucky Card (Very Small)
2,000 Coins (Very Tiny)
Rat
100,000 Coins
100 XP (Very Tiny)
2,000 Coins (Very Small)
Basset Hound
(Premium)
100 Cash
10 Energy (Very Small)
5,000 Coins (Very Small)
Level
Hearts Required
Stat Increase
Level 2
70 Hearts
1 Bar in Skill 1 (Wolf)
1 Bar in Skill 2 (Rat)
Level 3
250 Hearts
1 Bar in Skill 2 (Wolf)
1 Bar in Skill 1 (Rat)
Level 4
700 Hearts
1 Bar in both Skills (Both Pets)
Level 5
1250 Hearts
1 Bar in both Skills (Both Pets)
NOTE: The Wolf will be at 5 Bars (Good) in Skill 1 and 4 Bars (Fair) in Skill 2 and the Rat will be at 4 Bars (Fair) in Skill 1 and 5 Bars (Good) in Skill 2 upon reaching Maximum Loyalty.
Gallery
Community content is available under
CC-BY-SA
unless otherwise noted.