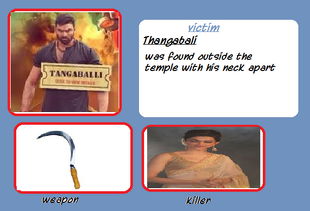 The case of South India is the third fan made case by MissVenomaxPoison and the third in The Lost
Case background
the victim was a man named thangabali who was found dead outside the temple with his head apart from his body. the killer was a woman named meena ama who killed thangabali because meena wanted to marry rahul suvarna and tangabali didn't wanted him to marry her. so thangabali went to meena's father suryaprakash and gave him a warning that if he let rahul and meena marry,he will kill her and him.when suryaprakash told all this to meena,she became very angry.
the next day,meena called thangabali to the temple for telling him a secret.Meena took a sickle with her to the temple.She saw Thangabali waiting for her.Meena went to Thangabali and told him to close his eyes,and then meena removed the sickle and cut off Thangabali's neck.
When Meena was arrested, she told everything whatever happend and she was sentenced for 30 years in jail with a chance of parole for 15 years.
Victim 
Thangabali (found outside the temple with his neck apart )