| | | | | |
| --- | --- | --- | --- | --- |
| ◄ | Transcript | General | Reviews | ► |
| | | |
| --- | --- | --- |
| " | The Kobe Flower Festival, seemingly glamorous at the first sight, is in fact going to be the stage of an evil murderous intention. Get your gloves on and uncover the truth! | " |
| | —-Case teaser | |
Flowery Madness is a case featured in Criminal Case as the seventh case of Kobe Town. It takes place in the Ebishiro Gardens district of Kobe Town.
Plot
Two days after the team found out about the mysterious death of Okakura Kazuki, the annual Kobe Flower Festival day finally started. While the team were about to come and see what the festival had in store, Kyogoku called them, saying that he discovered a body underneath one of the festival's fallen signs. Hosaka and the player then headed to the crime scene and identified the victim as architect Onozuka Kanichi, who got crushed by the fallen sign. After checking the rope which hung the sign, the team managed to find out that it was cut very sharply and professionally by a certain person, which meant that Onozuka's death was a murder. They were then able to discover five suspects: festival organizer Hasuro Jensen, florist Shimizu Hitomi, up-and-coming author Toriyasu Sora, investor and cooper magnate Sakyo Kenshi and Ebishiro Hiruko, a designer and renowned flower artist who was also Megumi's grandmother. Mid-investigation, while Hosaka was reviewing the case, he got slipped on something and thus fell into the festival's flower fountain.
A soaked Hosaka, after complaining about his bad luck, went change himself again and soon accompanied the player to continue investigating. They soon discovered in surprise that the thing on which Hosaka slipped was the victim's phone, proving that Onozuka had been to the flower fountain. After some searches, the team discovered that Toriyasu had been following the victim with his camera. Admitting to the fact, Toriyasu explained that he needed to find evidence to prove his suspicions of Onozuka's plagiarism from him. As soon as Toriyasu saw the flower road Onozuka designed for the festival, he realized that its appearance totally coincided with the one described in Cross My Broken Heart, one of Toriyasu's novels. Not only that, Jensen and Onozuka were found to have a grudge against each other due to their contradicting viewpoints regarding the festival's designs and concepts. Some minutes after, suddenly, a flower basket nearly fell into Hosaka's head.
A clumsy-looking Jensen then peeked his head out from the fountain and apologized to Hosaka for accidentally making the basket fall apart, saying that he was distracted by thinking of the fuss back in Raxelville. After accepting Hasuro's apology, the team continued to investigate, thus finding out that Hitomi and Onozuka were in a relationship, however, Hitomi dismissively told the team that it was simply an unimportant one night stand. Sakyo also had some problems with the victim, saying that he was too insistent and obsessed with the fact that Sakyo should invest his money in Onozuka's projects. Hiruko, who was also the flower fountain's lead desginer, had an unimpressed view on the victim as well due to the fact that he got angry after Hiruko disapproved his fountain ideas. After all, the team were able to unmask the real killer, Hitomi.
Upon admitting to the murder, Hitomi explained that Onozuka had installed a hidden camera during their one-night stand, which Hitomi totally had no idea. After that, Onozuka had blackmailed Hitomi with her humilliating photos, telling her to give him money every week, which was worth her whole monthly salary, if she did not want her photos to be posted online. Angry about Onozuka's true nature, Hitomi decided to pretend that she would agree to Onozuka's deals, telling him that she would meet him at the flower festival's sign. There, after seeing Onozuka right by the sign, Hitomi quickly used a knife to cut the sign's attaching rope, making the sign fall into Onozuka's body and leading to his death. Judge Sato sentenced her to 13 years in prison.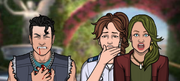 Post-trial, a shocked and hurried Sonomori rushed to the Kujo and the player, reporting that a young guy got poisoned in the flower fountain just earlier. There, much to the team's shock, they realized the poisoned victim as their previous suspect Tsuzuki Ryuga, pale and coughing blood due to the poison's effect. After taking Ryuga to a nearby hospital instantly, the team then talked to a witness who saw Ryuga collapsed. The witness, who claimed to be Asaka Nana, a florist, revealed that she witnessed Ryuga suddenly freaking out and falling into the ground, however, Asaka had no clues of how he got poisoned. Later, Seiya called the team from the hospital, telling that Ryuga was saved thanks to the team's quick actions. They then found out from Seiya that there were traces of poison in a tiny hole on Ryuga's left hand. However, Seiya could not deduce where the hole was from. He then promised to keep the team updated on Ryuga's incident.
Meanwhile, Hosaka and the player approached Hiruko about Megumi's grudge against her own father, Gunzo. Hiruko sadly explained to the team that Megumi and her twin sister, Honami, always hated their father due to various terrible reasons. Per Hiruko, although Megumi loved flowers, she never wanted to become a flower artist, but a police profiler instead, while Honami's dreams of becoming a fashion designer was also abandoned due to Gunzo. Despite Hiruko and Meiko's numerous advices for Gunzo about letting the twin have their own life and freedom, Gunzo would not listen to any of them. The team then helped Hiruko find a flower brooch which she bought for Megumi as a gift. However, they found no traces of Megumi in her room.
Much to their surprise, Chief Oyama told them that Megumi had asked him for permission of some days off in order to come back home and have a serious discussion with her father. While worrying that Megumi would be forced by her father to leave the police, the team received another call from Seiya that Ryuga had slightly recovered and already woke up. In the hospital, a hazy Ryuga revealed that he was poisoned after touching a blue rose which he was gifted by a flower shop at the flower festival, but did not recall which shop had given him the rose. Realizing that that rose may have been poisoned, team managed to collect it in the festival sign. Per Seiya, there was poison on the rose's thorns, which was identical to the one on Ryuga's hands, proving that Ryuga was indeed poisoned by the blue rose. Reminded that Okakura Kazuki, wedding planner Namikaze Yurika's friend, also got poisoned by unknown reasons, the team scheduled a meeting with her, who confirmed that Onozuka's dead body also had some hole marks in the palm, proving that Okakura was also killed with the very same method used on Ryuga. Realizing that there might be a serial killer aiming at Ryuga and Okakura for unknown reasons. The team then decided to ask Yurika for Okakura's workplace in order to collect more clues and apprehend this serial killer.
Summary
Onozuka Kanichi (crushed by one of the Kobe Flower Festival's signs)
Murder Weapon
Killer's Profile
The killer plays tennis.
The killer is left-handed.
The killer goes to sento baths.
The killer wears lipstick.
The killer wears a hat.

Crime Scenes
| | | |
| --- | --- | --- |
| Fallen Festival Sign | Pile of Rubble | Fallen Festival Sign Bonus |
| Interior Tent | Flower Decorations | Interior Tent Bonus |
| Flower Fountain | Statues | Flower Fountain Bonus |
Steps
| | |
| --- | --- |
| | Sorry for this inconvenience but this section isn't finished yet :< It will be finished soon. |
Chapter 1
Chapter 2
Chapter 3
The Thorn in Your Eyes (2/5)