Welcome to the Criminal Case Official Fanon Wiki
...where you can take your creativity to the next level.
7,911 articles combined by 133,294 edits and 8,465 images since creation on the 13th of January 2014.
This wiki may contain strong language and graphic images or content. Browse at your own risk.
About Recent Activity Categories Forum Canon Wiki Theory Wiki Policy Administration
About Criminal Case
Criminal Case (commonly abbreviated as "CC") is a detective-themed hidden object game released on November 15, 2012 for Facebook. An iOS version was released worldwide on August 28, 2014, followed by an Android version on April 15, 2015. Developed and published by French indie studio Pretty Simple, Criminal Case has over ten million average monthly users. On December 9, 2013, Criminal Case was crowned the Facebook Game of the Year 2013.
Read more…
Case of the Month: February 2019 - "Never Scream Wolf"
"

Tensions in the search for the serial kidnapper gets higher as a newly minted actor of the latest werewolf blockbuster of the year is found stabbed on set! Will you claw through the clues to snap the jaws of justice on this killer?

—Case Teaser

"

After Luke, Astrid and the player decided to go check out a new werewolf blockbuster set, they were surprised to discover there, the body of newly minted actor and werewolf Rudolph Monroe, multiple slash wounds across his body. Luke helped the detectives by taking the body to Beatriz, who confirmed that the slashes were made by a small blade. She also ironically noted that the victim had been attacked by a "werewolf". They added prop maker Isaac Hawking who told them that they were filming in some kind of legend's mansion in Shadow Corner which was revealed to belong to serial killer legend known as Shadow.
There, they also added actress Pamela Malandra, who they had last met on the red carpet, and horse breeder Johnathan Marksman. They then learned that the victim had frequently visited a hideout in the forest. Arriving at the hideout, the duo discovered that Rudolph enjoyed his wolf-like role that he lived in the cave. They also found clues to add Luke's mother, actress Gwen Leon-Mathieu, criminologist Dan Mackellar and film editor Ryan Everton to the suspects.
Soon afterwards, Astrid and the player also found out about Isaac sending a dog toy to the victim as Isaac though he was only some human-like dog. They also discovered that Pamela was rejected by the victim when she started flirting with him as he told her he already was dating. They also learned that Johnathan was Rudolph's cousin and that he was sad that they would never be able to see each other again. Later, at the station, beat cop Penelope Hunter approached them and explained that someone had been spotted at the victim's hideout. read more...
Help
Not sure where to start?
---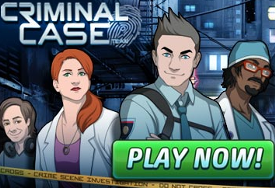 News
Create blog post
Blogs
Previously...

(Dorothy Kix is seen getting into a train by Cathy, who continues drilling into chest and starts shooting at her arms. Dorothy recovers enough to fire her shoulders at Cathy, but the bullets only managed to reach an invisible shield around Cathy. Cathy's arm tu…

Read more >
See more >