| | | |
| --- | --- | --- |
| " | Ha, you thought you could just commit a crime and not get caught? You're so vacuous like all the others! You'll get your just dessert, all right... in prison! | " |
| | —Arthur Kingsley | |
Arthur Kingsley (appearing as Honorable Kingsley) is one of the central characters in CCFan32's series. He serves as the judge of the Court of Bluehaven.
As the judge, his main role in the game is to sentence the killers and bring justice to the city at the end of each case in Bluehaven. The sentence Kingsley issues depend on the severity of the crime, the mental health of the killer, the motives for the murder, how much false testimony the killer gave out during the investigation, just to name a few.
Personal Life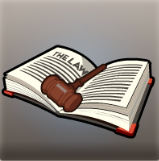 Arthur hails from
Vocation City
, and his mother,
Susan Kingsley
, was murdered by muggers on her way home from work just before Christmas when Arthur was only five years of age. After that, he vowed to bring every single criminal in the city to justice as he believes he will make his mother proud by throwing people, like her killers, behind bars with equitable sentences.
Other than that, Kingsley is fond of oatmeal cookies.
Appearance
As a judge of 57 years of age, Kingsley has dark brown eyes and wavy medium grey hair. Being an aged man, Kingsley sports many wrinkles on his face. As the judge, Kingsley wears a standard judge's robe. Underneath the robe, he wears a white shirt with a red tie which sports a design of gold scales on it.
It's known that Arthur is 6 feet, 3 inch tall, weighs 177 lbs, and his blood type is A+.
Sentences
Case Appearances
​As one of the central characters of CCFan32's series and the judge of the Court of Bluehaven, Kingsley has appeared in every single case of Bluehaven till now.
Community content is available under
CC-BY-SA
unless otherwise noted.